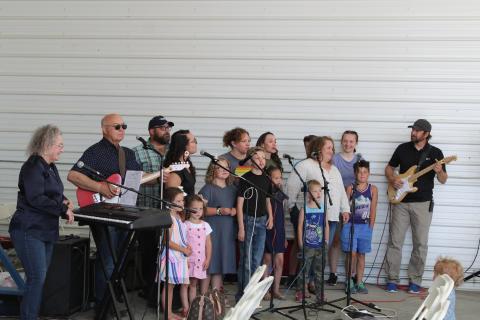 75 Years and counting. The 2021 Annual Meeting was a HUGE success.  BBQ Steak, hamburgers, hotdogs, salads, beans and cake & ice cream fed over 300 people. We had 155 members in attendance. Over 35 door prizes were awarded including 2 tickets to the Medora Musical and Pitchfork Fondue and 2 $500.00 cash prizes. This year we also awarded child prizes. Bicycles for 0 to 10 year olds and a backpack and a Bluetooth Speaker for the 11 to 18 year olds. The kids were also treated to a bouncy house and a story read to them by Miss Katie Tooke, Miss Teen Montana 2021.  Horse drawn wagon rides were a big hit as well. 
Claire Vigesaa, Upper Missouri, and Gary Wiens, MECA, gave us updates from their organizations. It is very interesting to hear of the challenges and growth that is going on in our area and the State of Montana.
Incumbants Mike Hansen and Karen Kreitel were elected by acclamation to serve 2 year terms. 
Several congratulated Jack on his 20 plus years with Southeast Electric.  Jack has plans to retire before the next Annual Meeting so be looking for celebration details in the future.  Robin was also congratulated for her 40 years of employment with Southeast Electric.  Robin truly has the cooperative spirit.  Members always come first.
The highlight of the evening was the entertainment provided by Manager Jack Hamblin and his family.  They performed 20 years ago for Jack's first Annual Meeting so we felt that it only right they be here for his last.  This family is so talented and you could certainly tell their father is proud of them all.  
We look forward to seeing you all next year!